Our Toddler Inflatable Rentals in Garland, Texas are great for your little ones. When planning a party or event, it's important to make sure that all age groups have fun activities. Our toddler bounce house or bounce house combos can be rented wet or dry and are perfect for cooling off in the hot Texas sun. We have a fantastic selection of toddler bouncers that are fun for even the smallest of bouncers. We bring these small bounce house rentals to toddler birthday parties, daycare parties, and more. Our Animal Kingdom Toddler Inflatable is a fun themed bouncer that kids love. You want something bigger? Head on over to our Combo Bouncer Rentals!

All our inflatable rentals are cleaned and sanitized before every rental. Also, our units are all produced by the top inflatable manufactured in the world, ensuring that they all meet or exceed industry safety standards and regulations. For us, fun is only second to safety. Bounce Universe Party Rentals has the best selection of large, colorful bounce house rentals for our customers with toddlers in the Garland, Texas other surrounding areas in Texas. Browse the selections below and click the image or title for more information and to request a quote. We welcome all questions, please Click Here to contact us for any inquiries and orders.
  Toddler Bouncers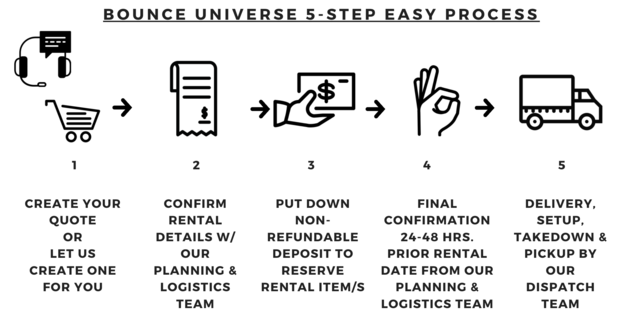 Why Choose Toddler Bounce House Rentals From Us
If you're looking for the best Toddler Bounce House Rentals in Dallas, Texas. has to offer, you are looking at the right place! Welcome to Bounce Universe Party Rentals! We are located in Garland TX, and we are the premium party rental company for a spectrum of bounce houses and other inflatable units. We have a large range of Toddler bounce house rentals, not only in the Dallas region but also in the surrounding area. Bounce Universe Party Rentals is definitely the top option for inflatables and party equipment rentals in Dallas, TX.

Bounce Universe is the #1 source for Toddler Bounce House Rentals in Garland. We provide a massive selection of bouncy castles to choose from. Toddler Bounce house rentals have been a staple for backyard birthday parties and carnivals for years. When you rent from Bounce Universe you can expect to receive a high-quality, clean, disinfected bounce house delivered to your location on time! Some people may think that is a tall order but the hundreds of people that have left us 5-star google reviews know it to be true!

With such a large bounce house selection to choose from, I am sure you can find something that will fit the theme of your party.

Whether you are hosting a smaller private party at your home or a large festival, Toddler bounce house rentals are a must-have. These inflatable rentals keep your kids and guests entertained for hours so you can sit back, relax and have a good time.

If you need a little more "BOUNCE" for your buck, look no further than Bounce Universe!
More Party Equipment In Dallas TX
Here you can find a wide variety of bounce houses, Toddler inflatable units, water slides, obstacle courses, giant yard games, concession machines, and so much more! You can start by hitting that "Add to Cart" button and looking around our inventory. Whether it's for a birthday party, school event, church event, fundraiser, block party, street party, company event, or even just a simple backyard get-together, we can set up your chosen inflatable unit! Kindly read through the guide below and start booking! •
Toddler Bounce House Rentals
: Don't let the littles be left out, we offer open-top playlands for them to crawl around and jump in a safe and age-appropriate space. •
Inflatable Sports Game Rentals
: From basketball to football and everything in between we have it all! •
Carnival Game Rentals
: Old fashion carnival games in a new modern style! •
Obstacle Course Rentals
: From 30' to 120' our selection is extraordinary! Tunnels, pop-ups, logs, and slides, can you win the race? •
Concession Machine Rentals
: Sweet treats galore! Popcorn, cotton candy, snow cone, nachos, and hotdog machine rentals. •
Tent and Canopy Rentals
: We have you covered when it comes to tents! From 10x10 to 20x50 we have the right size for your event. •
Table and Chair Rentals
: From a small party to a large party we have a wide variety and sizes of tables and chair rentals. •
Margarita Machine Rentals
: Top off your event with the best margarita machine on the market. Your party will be epic while the margaritas are flowing! •
Dunk Tank Rentals
: From fundraisers to backyard fun, a dunk tank is a classic activity that everyone can have fun with!