Bounce Universe Delivers Mechanical Bull Rentals to Garland, TX
#1 Mechanical Bull Rental Delivered in Garland, TX and Surrounding Cities!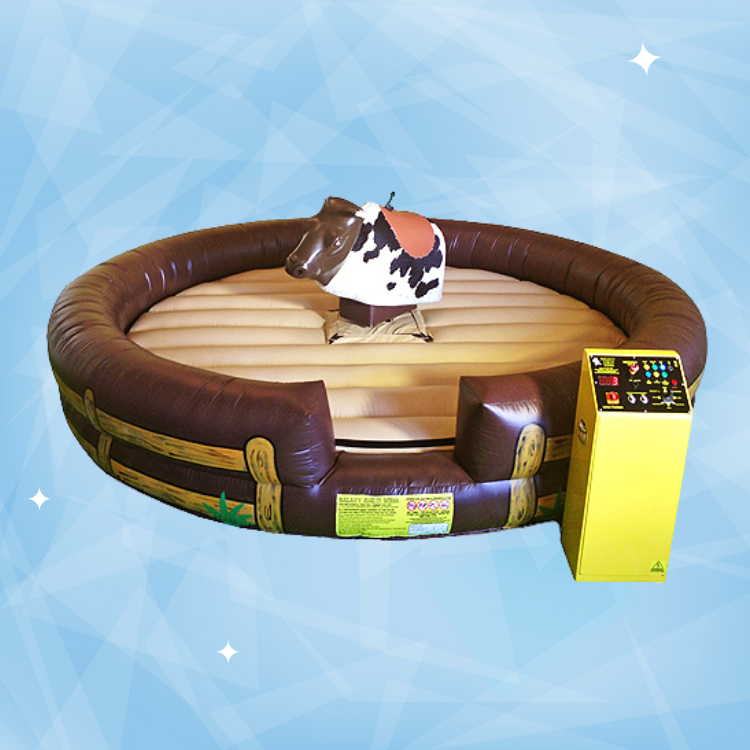 Mechanical Bull Rental "Cowboy Up"
Rent a Mechanical Bull Garland Texas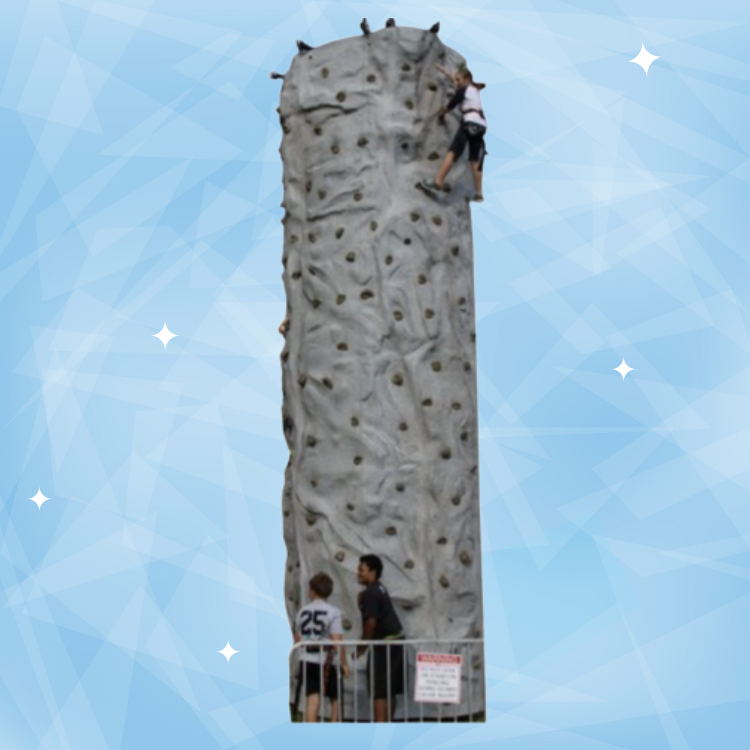 Rock Climbing Wall Rental
Rent a Rock Climbing Wall Garland Texas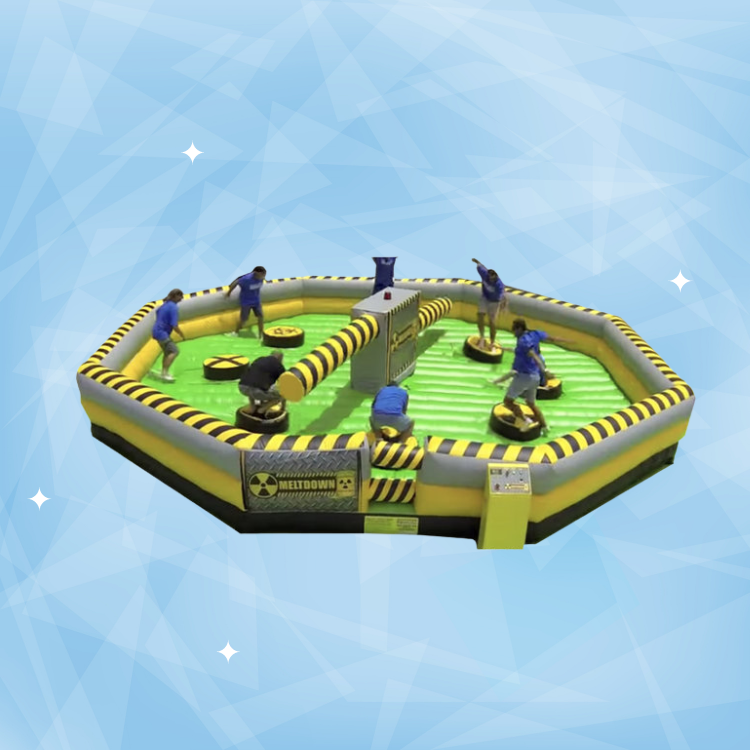 Toxic Meltdown Mechanical Ride Rental
Rent a Meltdown Ride Garland Texas
Why Rent a Mechanical Bull from Bounce Universe?
Bounce Universe is the #1 event rental company to rent a mechanical bull in Garland, Texas. We have affordable pricing and the highest quality bull in the area. If you're looking for a fun and safe way to entertain your guest, look no further than bounce Universe! Mechanical bull rentals allow for great fun for the rider and spectators!

You don't need to go to a rodeo to experience the fun and thrill of bull riding! No smell and no dirt rodeo experience when you rent a mechanical bull in Garland, TX from Bounce Universe! Our mechanical bull rental is the real deal with the bull-like body and the Sofolex Soft Foam Safety head. The soft foam safety head is very important with renting a mechanical bull. Safety is paramount at Bounce Universe so we made sure we purchased the best and safest bull rental on the market. Our mechanical bull rental features an Automatic Stop Sensor so as soon as the rider falls the bull stops instantly! This bull rental also comes with 5 pre-set automatic competition levels Slow, Medium, Hard, Greenhorn (competition for beginners), and Cowboy (competition for experts). So let the competition begin and keep an eye on the LED timer to see if you can make the 8-second ride!
Who Rents Mechanical Bulls?
When you're planning your next party or event, a mechanical bull rental from Bounce Univers is the perfect way to add excitement and fun! We have the best
mechanical bull rental in Garland Texas
, and our experienced staff will make sure your event is a success. Call us today to reserve your mechanical bull!
Mechanical Bull Rentals is perfect for:
•Weddings
•Corporate Events
•Funraisers
•Private Parties
•Bar/Bat Mitzvahs
•and more!
So, what are you waiting for? Mechanical Bull Rental from Bounce Universe is the perfect way to make your next event one to remember! Call us today at (214)341-0101 to reserve your mechanical bull.
Mechanical Bull Rental FAQs!
Q: When I rent a mechanical bull does the rental include a person to run the bull?
A: Yes, we always provide a trained operator with every mechanical bull rental. If you are having a large group or community event having a volunteer to help with the line is always a good idea.

Q: How many hours can I rent the bull rental for?
A: Our price is based on a 3-hour event, but don't worry if your event is longer than 3 hours you can always add on additional time at a discounted rate. The 3 hours is just the minimum time the mechanical bull will be at your location.

Q: What is included in the mechanical bull rental?
A: Our mechanical bull includes the western-themed inflatable cushion, the bull, the deluxe controller, and the trained and friendly staff to run the equipment.

Q: I don't have a very large area to set up the mechanical bull, how much space do I need?
A: The mechanical bull rental is a larger piece of equipment, the area required is 20'x20'x12'. We always recommend that you measure your area prior to making the order to verify that you have the space required.

Q: I have a fenced backyard, I can have a mechanical bull in my backyard?
A: Yes, backyard setups are very common. Double-check to make sure that your gate has at least a 3' opening so we can get the equipment through and into the backyard.

Q: Do I need to provide an extension cord or do you bring one with the mechanical bull rental?
A: Yes and No! We can provide them for an additional cost or you can provide them. If you choose to provide your own extension cords please make sure they are heavy-duty (these are not the common ones people use for lawn equipment) 10 or 12-gauge, 3-pronged cords. If you have questions about extension cords or if you have the correct one please call the office prior to your order.

Q: Do I need to provide power for the mechanical bull or do you provide a generator?
A: Yes and No! If you have power available within 50-75 feet we can use a heavy-duty extension cord (yours or ours if added to the order) to power the inflatable and controller. If you do not have the power you can choose to rent a generator from Bounce Universe. Please remember you will need two separate 15 amp circuit breakers, one for the inflatable blower and one for the controller.
Other Fun Rentals by Bounce Universe!
Bounce Universe not only provides Mechanical Bull Rentals in Garland Texas we also provide fun inflatable rentals like bounce houses and water slides. We are a one-stop shop for party rental equipment. Check out our massive selection of inflatable and party equipment rentals below!
•
Toddler Bounce House Rentals
: Don't let the littles be left out, we offer open-top playlands for them to crawl around and jump in a safe and age-appropriate space.
•
Inflatable Sports Game Rentals
: From basketball to football and everything in between we have it all!
•
Carnival Game Rentals
: Old fashion carnival games in a new modern style!
•
Obstacle Course Rentals
: From 30' to 120' our selection is extraordinary! Tunnels, pop-ups, logs, and slides, can you win the race?
•
Concession Machine Rentals
: Sweet treats galore! Popcorn, cotton candy, snow cone, nachos, and hotdog machine rentals.
•
Tent and Canopy Rentals
: We have you covered when it comes to tents! From 10x10 to 20x50 we have the right size for your event.
•
Table and Chair Rentals
: From a small party to a large party we have a wide variety and sizes of tables and chair rentals.
•
Margarita Machine Rentals
: Top off your event with the best margarita machine on the market. Your party will be epic while the margaritas are flowing!
•
Dunk Tank Rentals
: From fundraisers to backyard fun, a dunk tank is a classic activity that everyone can have fun with!
•
Bounce House Rentals
: Large selection of clean and unique bounce houses of different sizes and themes.
•
Mechanical Ride Rentals
: From
Mechanical Bull Rentals
to
Rock Climbing Wall Rentals
we have something fun for everyone!
Other important facts about Bounce Universe and renting the Mechanical Bull Rental:
•Bounce Universe only delivers the latest and greatest inflatable rentals, and we make sure all our products are at par with the commercial standards.
•We make sure that all of our units are cleaned and sanitized prior to delivery.
•Our units are manufactured with "lead-free" vinyl, which makes them perfectly safe for your kids and guests.
•Deposits are non-refundable, that's why we recommend finalizing everything before booking.
•Changes to your order can be made no later than 7 days prior to your rental date.
•Keep an eye out for our text or phone call to confirm rental details.
•If you have any questions, you can always text, call or email us.
Bounce Universe Delivery Area!
Bounce Universe delivers Mechanical Bull Rentals to a wide variety of areas even though we are located in
Garland Texas
. We also deliver mechanical bull rentals to
Rockwall TX
,
Dallas TX
, Rowlett TX, Sunnyvale TX, Mesquite TX, Richardson TX, and a ton of other areas. If your city is not listed please
contact us
to see if we service your area!
We Proudly offer clean, on time delivery to the following areas:
Is your event outside of our listed area? Contact Us below as we frequently deliver to events farther out and sometimes special accommodations can be made.
NOTE: Extra fees may vary depending on how far you are outside our service area.