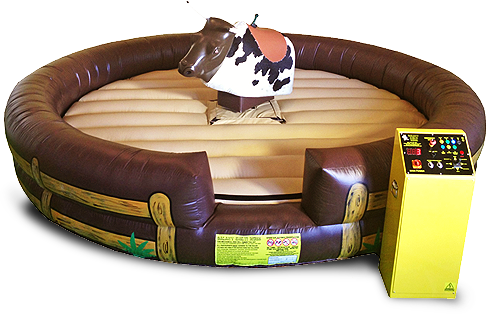 Mechanical Bull Rental
Mechanical Bull Rental, Dallas TX
What is the Mechanical Bull Rental all about?
Bounce Universe Party Rental has brought the newest item in our Inventory, the Mechanical Bull Rental. The Mechanical Bull Rental has become one of the must-have elite pieces of the Western entertainment equipment, for theme parties, backyard parties, corporate events, block parties, and more! Our Mechanical Bull Rental is entirely controllable and is of the latest design. Irrespective of skills, all ages from 8 to 70 years, will enjoy the experience of the Mechanical Bull Rental. The skilled operators are fully in-charge of the Mechanical Bull Rental. The great thing about our Mechanical Bull Rental is that more than once, patrons would want to ride it. We should accept that they all have a little spirit of competition in them. So don't wait for another minute, invite your guests and see how well they can handle an intense journey, children and adults alike.
What sets the Mechanical Bull Rental apart?
The Mechanical Bull Rental price is for 3 hours, and comes with 1 or 2 experienced operators. Each additional hour after the first three hours is discounted at $150. The motion of the Mechanical Bull Rental can be controlled through the control panel. There are various levels and intensities which is special in our Mechanical Bull Rental. The landing surface would definitely be padded and the fall should not injure anyone. This rental has gentle and secured foam head features. Call now to book our Mechanical Bull Rental from Bounce Universe Party Rentals.
If your booking time would be later than 8PM, we can accommodate but it would cost an additional $400.
Things to consider when renting the Mechanical Bull Rental?
When renting the Mechanical Bull Rental, you would need to make sure that:
The dimensions for the setup location of the

Mechanical Bull Rental

, has been checked (see above dimensions)
If you have a

gate or a fence

, please make sure it is at least

5 ft. wide

, to facilitate safe and smooth passage of the deflated version of this unit with all the hard equipment that comes along with the setup.

If you select Grass as the setup surface, kindly make sure you have no pipes or sprinklers that could possibly be hit during setup and takedown. Bounce Universe will not be hold responsible for any damage. Either you select an option with sandbags (cement/ sprinkler sandbag/artificial grass) or mark the ground with flags so that our setup crew would be guided on where it is safe to stake the unit to the ground.

If you would not select our extension cords, please make sure you have a heavy duty, gauge 10 or 12, 3-pronged, which can handle a 1.5 HP blower.

If winds are over 15mph, we won't be able to setup the

Mechanical Bull Renta

l as it is too dangerous

We normally have a 4-6 hr. window prior your rental start time, when it comes to delivery and around 2-3 hr. window after your rental end time for pickup. But you would have an option to choose if you want a narrower timeframe (1-2 hrs.) or an exact time, and of course those would come with a fee. Please see options when booking (Regular, Flexible, or Exact)
Other important facts about our company and renting the Mechanical Bull Rental:
Bounce Universe only delivers the latest and greatest inflatable units, and we make sure all our products are at par with the commercial standards.

We make sure that all of our units are cleaned and sanitized prior delivery.

Our units are manufactured with "lead free" vinyl, which makes them perfectly safe for your kids and guests.

Deposits are non-refundable, that's why kindly finalize everything before booking.

Changes on your order can be made not later than 7 days prior your rental date.

Keep your lines open as our planning and logistics team would call, or text you confirming rental details.

If you have any questions, you can always text, call or email us.
Picture of the Mechanical Bull Rental: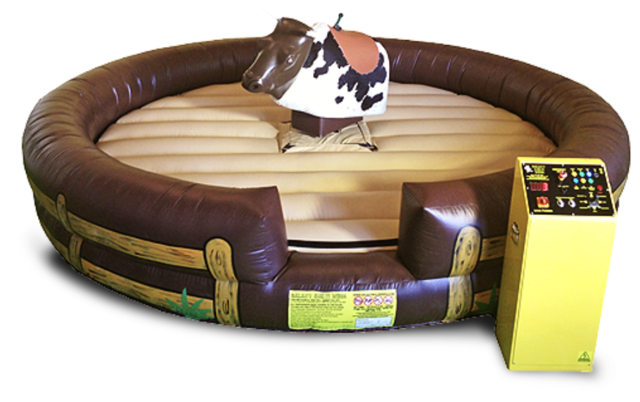 Bounce Univers Party Rentals delivers to Dallas, Rowlett, Mesquite, Sachse, Balch Springs, Sunnyvale, Wylie, Rockwall, Richardson, Plano, Addison, University Park, Highland Park, Murphy, Forney, Fate, Highland Park, Casaview, Casalinda, Forney, Fate, and more! Your city is not listed? Please call our office at 469-600-2291 and one of our representative will help you out with your questions.