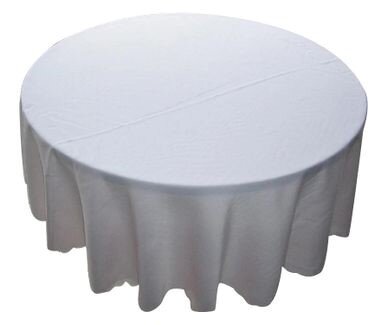 White Polyester 120in Round Tablecloth (Fits our 60in) Only
120 in Round PolyesterTablecloth White Only
A 120" inch round polyester tablecloth are a popular choice for events and occasions. The rental of the Polyster 120 inch linen is only for the rental of the linen.
NOTICE: CANDLEWAX, PERMANENT MARKER, PEN, AND ANY TYPE OF ADHESIVE WILL DAMAGE LINENS. LINENS WITH DAMAGE FROM THESE SUBSTANCE WILL RESULT IN REPLACEMENT FEE OF 2X THE RENTAL COST. PLEASE AVOID USING THESE SUBSTANCES IF AT ALL POSSIBLE.
These linens will fit our 60in Round Tables to the floor.
. The rental cost of the linen does NOT include setup and take down.