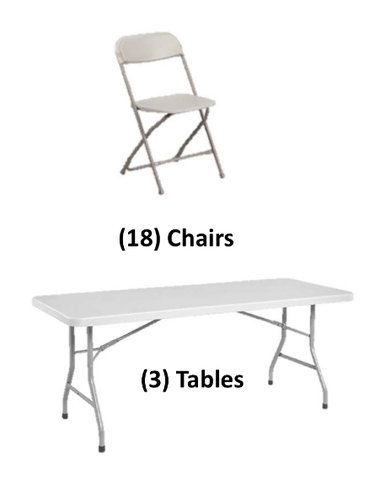 Table and Chair Deal
3-(6ft) Rectangle Tables and 18 Adult Beige Chairs
Don't forget to add your tables and chairs to your party! Package includes 3- (6ft long tables) and 18- (Adult Beige Chairs). The Table and Chair Package Deal is the way to go and save money. You will not go wrong with this package deal. 3 tables and 18 chairs rental from Bounce Universe Party Rentals is the perfect package for a small cook-out, or small gathering. This package will sit 18 guest.
Specifics on the 6ft. Rectangle Table and 18 Chairs Package Deal Rentals
Table pricing includes delivery but not the setup and takedown. Our crew will drop them off with you. If you need your tables and chairs setup and take down, please select the setup and takedown service for an additional $1.00 per table and $1.00 per chair. In order to get delivery with tables and chairs. you must have an order of at least $125 before taxes are included. If you total order is less than $125, you will need to choose other items to the order in order for us to deliver. We don't have the option for Pick up at the moment, but check with us in the future. Or Call us at 469-600-2291.
Ready to Rent our 6ft Table and Chair Package?
If you would like to book this package of 3 tables and 18 beige chairs package online? Press the start reservation button at the top of the page or press Add to Cart to keep shopping. You will be taken to an online booking portal to enter your party information and secure it with a deposit. Once you have completed this information, you will receive an email confirmation of your order. Make sure you sign you contract! The link will be on the email confirmation.
Dont forget to check out or backyard and carnival games as well as concession machine to make your party a success. Bounce Universe Party Rentals can help you to mark multiple items off your party list to make your party a success. If you have any other questions or would rather book over the phone then give us a call at 469-600-2291. We would be happy to help you with your order.
Bounce Universe Party Rentals always clean and in very good condition party equipment. We carry the latest and greatest inflatables in the Dallas area.