Mechanical Reindeer Rental
Actual Size: 16'L x 16'W x 8'H
Setup Area: 20'L x 20'W x 10'H
Outlets: 2
Age Group: 3 years and Up
Attendants: 1





$1,300.00

Please call to reserve this item

Mechanical Reindeer Rental Dallas TX
It's so Christmassy! You're getting chilly, we know! Wanna do something fun in the meantime? Check out the Mechanical Reindeer Rental and be like that Santa Claus rider! Ride and enjoy it in the wild west style with a reindeer! It's a safe, secured ride on inflated floors surrounded by padded walls.
Christmas is coming, so we're opening up our Mechanical Reindeer Rental. Hop on board and take a wild wild west adventure with us. You don't have to worry about staying on your feet the whole time because it's really meant to throw you off your balance! But we bet you're gonna have the ride of your life with this adrenaline-pumping rental unit!
We assure you that your Christmas is going to be wilder than ever before! The Mechanical Reindeer will take you on a wild and fun ride while you enjoy the company of Santa Claus himself. LOL! You can choose from the different modes, depending on how adventurous you feel, and we have various levels of intensity. We have safe and secure flooring that's fully inflatable. So if you're looking for some good old family fun this Christmas, rent the Mechanical Reindeer Rental for some good clean family fun today!
Not just for Christmas, experience the Mechanical Reindeer for a wild ride on any occasion you can think of! Santa's riding his reindeer, and he's looking for some new friends to join him. Take your adventurous ride through the wild west with our Mechanical Reindeer! Ride various modes and intensities through the safe inflated floors and walls. It's way more fun than your average carnival ride!
When Riding the Mechanical Reindeer Rental there is a MAX of 1 rider at a time and the minimum weight is 40 lbs and up to a maximum of 250 lbs per rider. Due to our concern for everyone's safety, we have the last say in this. The price for the Mechanical Reindeer Rental includes the reindeer and 1 attendant for 3 whole hours, meaning we will arrive 30-45 minutes before the event starts to set up. Here at Bounce Universe, we want you to take advantage of the whole 3 hours of fun! That's correct, 3 whole hours for the price of $1300.00! Each Additional hour is at $200 for the Mechanical Reindeer Rental. We also count on Generators big enough for our Mechanical Reindeer Rental, so please let us know in advance before we deliver. The Mechanical Reindeer can be set up on Grass, Concrete, Indoor, Artificial Grass, or Dirt.
Things to consider when renting our Mechanical Reindeer by Bounce Universe:
The Mechanical Reindeer Rental price is for 3 hours and comes with 1 or 2 experienced operators. Each additional hour after the first three hours is discounted at $200. The motion of the Mechanical Reindeer Rental can be controlled through the control panel. There are various levels and intensities which is special in our Mechanical Reindeer Rental. The landing surface would definitely be padded and the fall should not injure anyone. This rental has gentle and secured foam head features. Call now to book our Mechanical Reindeer Rental from Bounce Universe Party Rentals.
If your booking time would be later than 7PM, we can accommodate but it would cost an additional $400.
Get your adrenaline on this Christmas break! Take the ride of your life with Mechanical Reindeer! Let the mechanical reindeer take you on a wild wild west adventure with our safe and secured quality ride. Explore multiple modes and intensities of rodeo. You'll get the ride of your life with our Mechanical Bull-like ride, which has a Christmas twist, thus it's called the Mechanical Reindeer Rental!
Pictures of our Mechanical Reindeer Rental by Bounce Universe: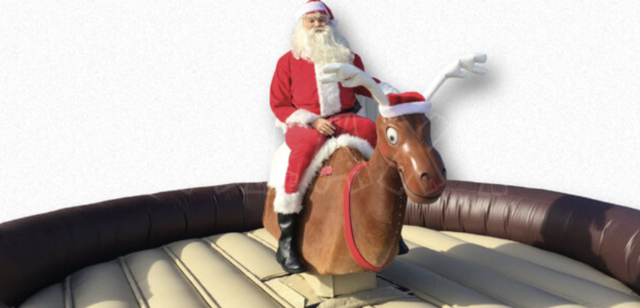 Bounce Univers Party Rentals delivers to Dallas, Rowlett, Mesquite, Sachse, Balch Springs, Sunnyvale, Wylie, Rockwall, Richardson, Plano, Addison, University Park, Highland Park, Murphy, Forney, Fate, Highland Park, Casaview, Casalinda, Forney, Fate, and more! Your city is not listed? Please call our office at 469-600-2291 and one of our representatives will help you out with your questions.