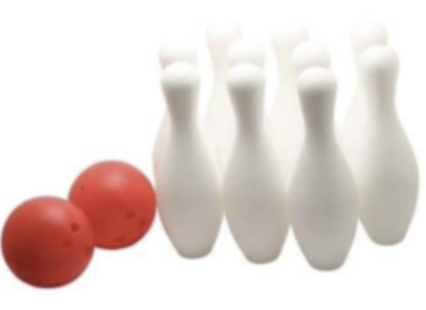 Kids Bowling Game
Kids Bowling Game TX Rental
What is the Kids Bowling Game all about?
Just like any other regular bowling game, our Kids Bowling Game is designed to take the kids out of the bowling alleys, and right straight to your own backyards. The Kids Bowling Game is a typical plastic set of bowling pins, and 2 bowling balls. We recommend a flat, smooth, cement/ wood surface for setup, as it would be more conducive to bowl in such conditions.
This Kids Bowling Game is a complete 10-piece bowling pin set. This Kids Bowling Game can be be played indoors or outdoors. The game is all about hitting all the bowling pins with one strike, making sure all of which are down by the turn. This rental would pave the way to teach parents, their young ones how to bowl. Who knows, your kids might end up professional bowlers?! The Kids Bowling Game is one of those add-on games, if you're planning to have a party in your backyard, perhaps with a few family and friends.