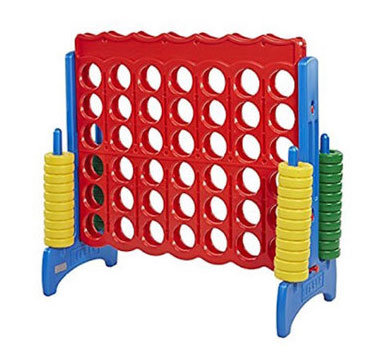 Jumbo Connect 4
Actual Size: 4'L x 1.5'W x 3.8'H
Setup Area: 5'L x 3'W x 4'H
Outlets: N/A
Age Group: All Ages




Jumbo Connect 4 TX Rental
What is the Jumbo Connect 4 all about?
Just like any other regular dominoes, our Jumbo Connect 4 is resized to massive proportions. The Jumbo Connect is made of solid plastic frame, and has matching colorful lightweight pieces for great playability. We are bringing this classic game to your yard, in a blown up version!
Our Jumbo Connect 4 allows players to experience the ultimate game by inserting oversized pieces into the grid, which the aim is to block the movements of the other player while trying to win their four pieces stacked in a row! It is a challenging strategy game, which is easy to learn and fun to play. Simple Rules: The Jumbo Connect 4 rental is an oversized variant of the traditional game, played by guests of all ages! A player attempts to create a row of four play pieces in the grid frame either horizontally, vertically, or diagonally, while trying to prevent their opponent from doing the same.
This Jumbo Connect 4 is a complete set. This Jumbo Connect 4 can be be played indoors or outdoors. The game takes on a whole new perspective, when it's played with the hard plastic frame and 40 lightweight colorful disks that are all giant sized. All game pieces which includes the actual frame and rings, are designed to be easily transported. Just to give you and idea of the size, our Jumbo Connect 4 dimensions are 4'L x 1.5'W x 3.8'H