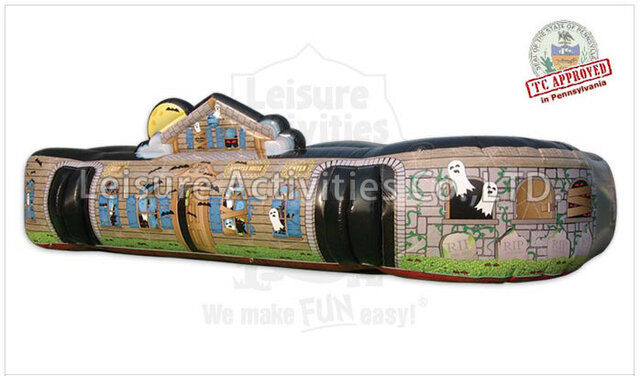 Halloween Maze
Actual Size: 50'L x 30'W x 12'H
Setup Area: 52'L x 32'W x 15'H
Outlets: 2
Age Group: 3 to 12 Years Old
Attendants: Adult Supervision IS required at ALL times.





$1,350.00

Please call to reserve this item

Halloween Maze Rental Dallas TX
An inflatable Halloween maze is a thrilling and whimsically eerie attraction designed to capture the essence of Halloween in an exciting, safe, and inflatable form. Here's a description of what you might find in such a maze:
**Structure:**
The inflatable Halloween maze is typically a large, enclosed structure made from durable and brightly colored materials. It stands out in its design, featuring ghoulish and Halloween-themed decorations. The walls are inflatable, giving the maze a soft and bouncy texture, ensuring a safe and enjoyable experience for participants.
**Entrance:**
As you enter the inflatable Halloween maze, you'll likely pass through a large, elaborate archway. This archway might be adorned with spooky creatures like skeletons, jack-o'-lanterns, and cobwebs, setting the tone for the adventure inside.
**Pathways:**
Inside the maze, winding pathways are delineated by inflatable walls. These pathways are dimly lit, creating an atmosphere of mystery and anticipation. The soft and yielding walls add a unique tactile experience as participants navigate their way through the maze.
**Halloween Decor:**
Throughout the maze, you'll encounter a range of Halloween decorations. These may include:
- Life-sized inflatable zombies, vampires, witches, and mummies that suddenly pop up as you round corners.
- Giant inflatable spiders, bats, and other creepy crawlies hanging from the ceiling or perched on the walls.
- Inflatable tombstones and eerie gravestones that create the illusion of a haunted cemetery.
- Illuminated pumpkins, lanterns, and torches to provide just enough light to make your way without revealing all the surprises in store.
**Sound Effects:**
To intensify the experience, you may hear eerie sounds emanating from hidden speakers. These could include cackling witches, ghostly moans, rattling chains, and the occasional spine-chilling scream.
**Fog and Special Effects:**
Some inflatable Halloween mazes incorporate fog machines to fill the pathways with a ghostly mist, making it even more challenging to see what's ahead. Strobe lights, blacklights, and glow-in-the-dark elements may also be used to create visual surprises and disorient participants.
**Challenges and Surprises:**
The maze is designed to be an interactive and engaging experience. As you navigate the pathways, you may encounter dead ends, hidden chambers, and surprise inflatable elements that pop up unexpectedly. Friendly costumed actors or volunteers may play the role of spooky characters to interact with participants and provide jump scares.
**Exit:**
Finally, participants will emerge from the inflatable Halloween maze through another themed archway, often accompanied by a sense of relief and exhilaration.
An inflatable Halloween maze is a perfect addition to any Halloween-themed event, offering an unforgettable mix of thrills and fun, while maintaining a safe and family-friendly atmosphere. It provides a unique opportunity for people of all ages to immerse themselves in the spooky spirit of Halloween and make lasting memories.
When renting the Halloween Maze you need to:
CHECK THE DIMENSIONS

(see above) of the

Halloween Maze

if you have enough space in your planned setup area.

If BACKYARD: gate or a fence, should be at least 4 ft. WIDE(no exemptions), to wheel in the

Halloween Maze

Alley or pathway leading to setup area should have

NO OBSTRUCTIONS

whatsoever, for the

Halloween Maze

The needed ext. cord for the

Halloween Maze

, is a heavy-duty, 3-pronged, gauge 10 or 12, & can handle a 1.5-2 HP blower.
For

Grass

setup surface, kindly make sure you have

no pipes or sprinklers

that could possibly be hit during setup and takedown. Either you select an option with sandbags (cement/ sprinkler sandbag/artificial grass) or

mark the ground with flags

so that our set up crew would be guided on where it is safe to stake the unit to the ground. Bounce Universe will not be held responsible for any damages.
Since this is a dry unit, this cannot be used wet, otherwise extra fees would be charged for drying and cleanup, upon discovery.
If

winds are over 15mph

, we won't be able to set up the

Halloween Maze

as it is too dangerous
We have a FREE: 4-6 hr. window delivery PRIOR to your party, and around 2-3 hr. window AFTER your party for pickup. But if you're NOT WILLING TO WAIT, we can bump you to a narrower timeframe (1-2 hrs.) for $75, or an exact time for $150. Charges would be for each instance (1 charge for delivery, 1 charge for pick up). Please see options when booking (Regular, Flexible, or Exact)
Pictures of the Halloween Maze:
Bounce Universe Party Rentals is located in Garland, Texas and delivers to Dallas, Texas and surrounding area like Mesquite, Lancaster, Balch Springs, Wylie, Sachse, Murphy, Forney, Fate, Heath, Talty, Richardson, Plano, Allen, McKinney, DeSoto, Seagoville, East Dallas, University Park, Highland Park, Carrollton, Farmers Branch, Lavon, Lucas, Halton City, and more! You don't see your city? Please feel free to give us a call to 469-600-2291.