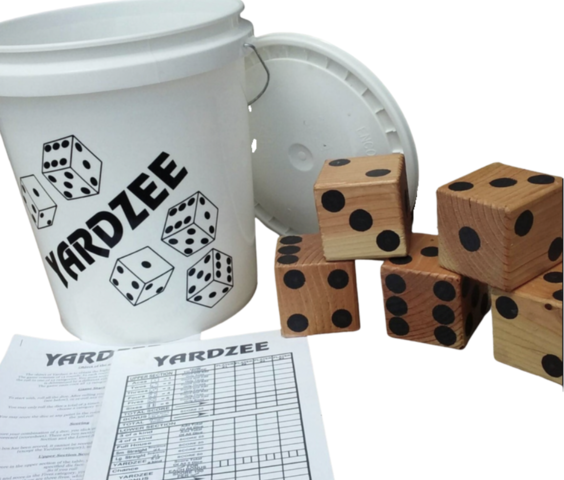 Giant Yardzee Game
Actual Size: 3.5"L x 3.5"W x 3.5"H




Giant Yardzee Game TX Rental
What is the Giant Yardzee Game all about?
Just like any other regular Yahtzee game, our Giant Yardzee Game is resized to massive proportions. The Giant Yardzee Game is made of solid wood dices, and a big bucket for great playability. We are bringing this classic board game to your yard, in a blown up version!
The Giant Yardzee Game is a fun game for all ages! With its oversized lawn dices this is perfect for both indoor and outdoor gatherings. Family and friends would definitely have fun strategizing, how to roll the dice to defeat the opponent! When playing the Giant Yardzee, the rules and instructions are plain and simple. One player would roll the dice and would follow the Yahtzee Game rules (research separately). Basically, the player who gets the highest score wins the game!
This Giant Yardzee Game is a complete 5-piece dice set with a big bucket. Each dice is measured 3.5"L x 3.5"W x 3.5"H. This Giant Yardzee Game can be be played in backyards, schools, churches, fields, gyms, function rooms, you name it, as long as it fits! The game takes on a whole new perspective, when it's played in giant sized version!