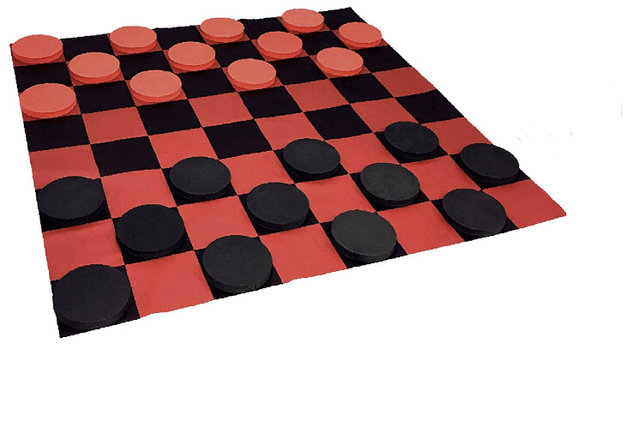 Giant Yard Checkers
Actual Size: 58"L x 58"W
Age Group: All Ages




Giant Yard Checkers Game Dallas TX Rental
Just like any other regular checkers, our Giant Yard Checkers Game is resized to massive proportions. The Giant Yard Checkers Game is made of solid plastic and has matching colored pieces of red and black for great playability. We are bringing this classic board game to your yard, in a blown-up version!
The Giant Yard Checkers Game is a fun game for all ages! With its massive and oversized checkerboard, this is perfect for both indoor and outdoor gatherings. Family and friends would definitely have fun strategizing, how to defeat the opponent! When playing checkers, the rules and instructions are plain and simple. One team representing one color (either red or black) would make a move, and the other team would also do the same -- taking turns until each team would flip the other team. To make the Giant Yard Checkers Game exciting, you would need to give a time limit for each team to complete a turn, maybe 2 or 3 minutes.
This Giant Yard Checkers Game is a complete 24-piece set with a mat measuring 58"L x 58"W. This Giant Yard Checkers can be played in backyards, schools, churches, fields, gyms, function rooms, you name it, as long as it fits! The game takes on a whole new perspective when it's played in a giant-sized version!