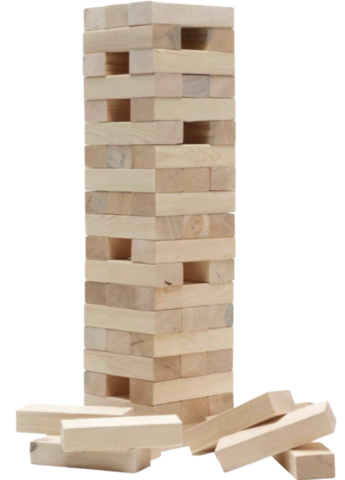 Giant Jenga Game
Actual Size: 8.25"L x 2.75"W
Age Group: All Ages




Giant Jenga Game TX Rental
What is the Giant Jenga Game all about?
Just like any other regular Jenga Game, our Giant Jenga Game is resized to massive proportions. The Giant Jenga Game is made of solid wood, and is lightweight which gives great playability. We are bringing this classic board game to the comforts of your own yard, in a blown up version!
This Giant Jenga Game is a complete 56-piece set. This Giant Jenga Game can be be played indoors or outdoors. The game takes on a whole new perspective, when it's played with real wooden game pieces that is giant size. All of the 56 premium wooden blocks fit nicely into a nylon bag, which is designed to be easily transported. Just to give you and idea of the size, our Giant Jenga Game dimensions are 8.25 inches in length x 2.75 inches in width and they weighs 0.375 oz.