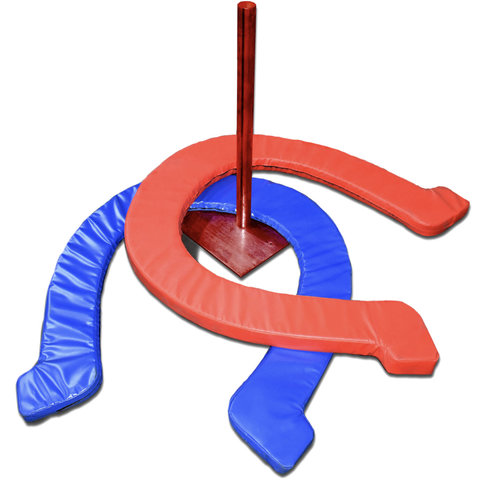 Giant Horse Shoe Game
Actual Size: 3 ft. Horse Shoes & Pole
Setup Area: 20 to 30 ft. Area
Attendants: Adult Supervision IS required at ALL times.





$89.00

Please call to reserve this item

Giant Horse Shoe Game TX Rental
Giant Horse Shoe Game TX Rental
Bounce Universe Party Rentals brings in the new Giant Horse Shoe Game Rental. This version of horse shoes would bring a whole new life to the Horse Shoes Game that you know of. You may play this indoor or outdoor, and the possibilities are endless. The Giant Horse Shoe Game can be played by all ages, so the whole family can enjoy some fun together. There is an added twist and a brand-new level of competition, with our Giant Horse Shoe Game. If the smaller children would play, they would need some adult support, because the horse shoes might literally be bigger than they are.
The Giant Horse Shoe Game comes with 4 horse shoes. 2 of which are red and the other 2 are blue. Each of the horse shoe is 3 ft in length. They are huge! The Giant Horse Shoe Game will be a successful and excellent addition to any occasion,such as school fundraisers, backyard parties, corporate events, block parties and more!
How to setup the field for the Giant Horse Shoe Game: The horse shoe ringers should be set 40 feet apart. If you have smaller kids playing you can adjust it. Make sure you choose a low-traffic area so you don't have to worry about getting spectators hit by flying horse shoes. Each ringer would then toss the horse shoe and the aim is to shoot them in the pole. The player who can stack the 2 horse shoe given in a round would win! It can be a best of 3 match, and you can always tweak the rules!