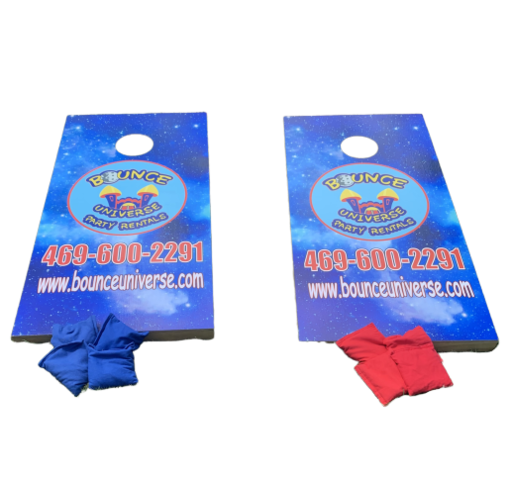 Corn Hole Game Rental
Corn Hole Game Rental
Now you can always play corn hole anywhere! Find a nice flat surface in a parking lot, the beach, lawn, backyard etc. Set up your boards facing each other, within 27 feet between each board's front edge. Pick from which side of the board you are going to throw. In a 4-player game the throwing box of your partner will be directly opposite of you. If you start throwing from the left side of the board in a 2 player game, you will walk straight across to the other board, and throw back from the right side. Finally, pick your bags (4 for each team) and prepare to play! A game is won when a team with a lead of 2 or more points hits 21. The match wins the first team to win 2 games!
The Corn Hole Game is great for school fields, church events, corporates, block parties, backyard parties, birthday events and more! The corn hole game rental comes with 2 boards and includes 8 beanbags (4 red+4 blue). The corn hole game rental is ideal for tailgaters, backyard games, barbecues, campsites and more!
Bounce Universe Party Rentals, LLC is located in Garland, Texas and delivers to Dallas, Mesquite, Rowlett, Sunnyvale, Plano, Lavon, Murphy, Balch Springs, Wylie, Sachse, Richardson, Carrolton, Farmers Branch, The Colony, Lucas, Heath, Forney, Frisco, and more!