Bounce Universe Party Rentals Delivers to Coppell, Texas
Bounce Universe Party Rentals, LLC provides inflatable bounce houses rentals to Coppell, Texas. Here at Bounce Universe Party Rentals, LLC our inflatable bounce houses are always cleaned up, sanitized and ready to go for your party or event! You will see that we have everything to make your next event a bouncing good time. We have a professionally trained delivery staff that is ready to take on any size of event you may have. From backyard parties to school events, we've got you covered. Renting our bounce houses for birthday parties, church, school, city or corporate events, carnivals, block parties, daycare day's and even family gatherings. Any event can be bounced into perfection by adding one of our inflatables. Choose from bounce houses, toddler bouncers, combo bounce houses, dunk tank, water slides, dry slides, tents, adult and toddler tables, chairs, mechanical bull or obstacle courses! Have a look at our bounce house rentals, they are brightly colored and ready for all your little bouncers.
Bounce House Rentals in Coppell, TX
Bounce house rentals can ramp up the excitement at a birthday party, corporate event, block party, festival, or picnic. That's why Bounce Universe Party Rentals is proud to rent a wide variety of bounce houses to residents of Combine, Texas and when you rent a bouncer, bouncy, jumper, or bounce house, from us, you can expect a safe and fun inflatable that is delivered clean and installed by trained professionals.

At Bounce Universe Party Rentals, we are committed to providing our customers with the highest quality bounce house rentals. Here are just a few reasons you can rent with confidence from us. We are experienced, our staff has experience in the event rental business. In short, we know how to throw a good party. Safety, our rental equipment is meticulously maintained and inspected annually by the State of Texas. Proud of our perfect installation safety record, our equipment has never blown away, because we do not take shortcuts. We follow all the manufacturer specifications for installation.
CLICK HERE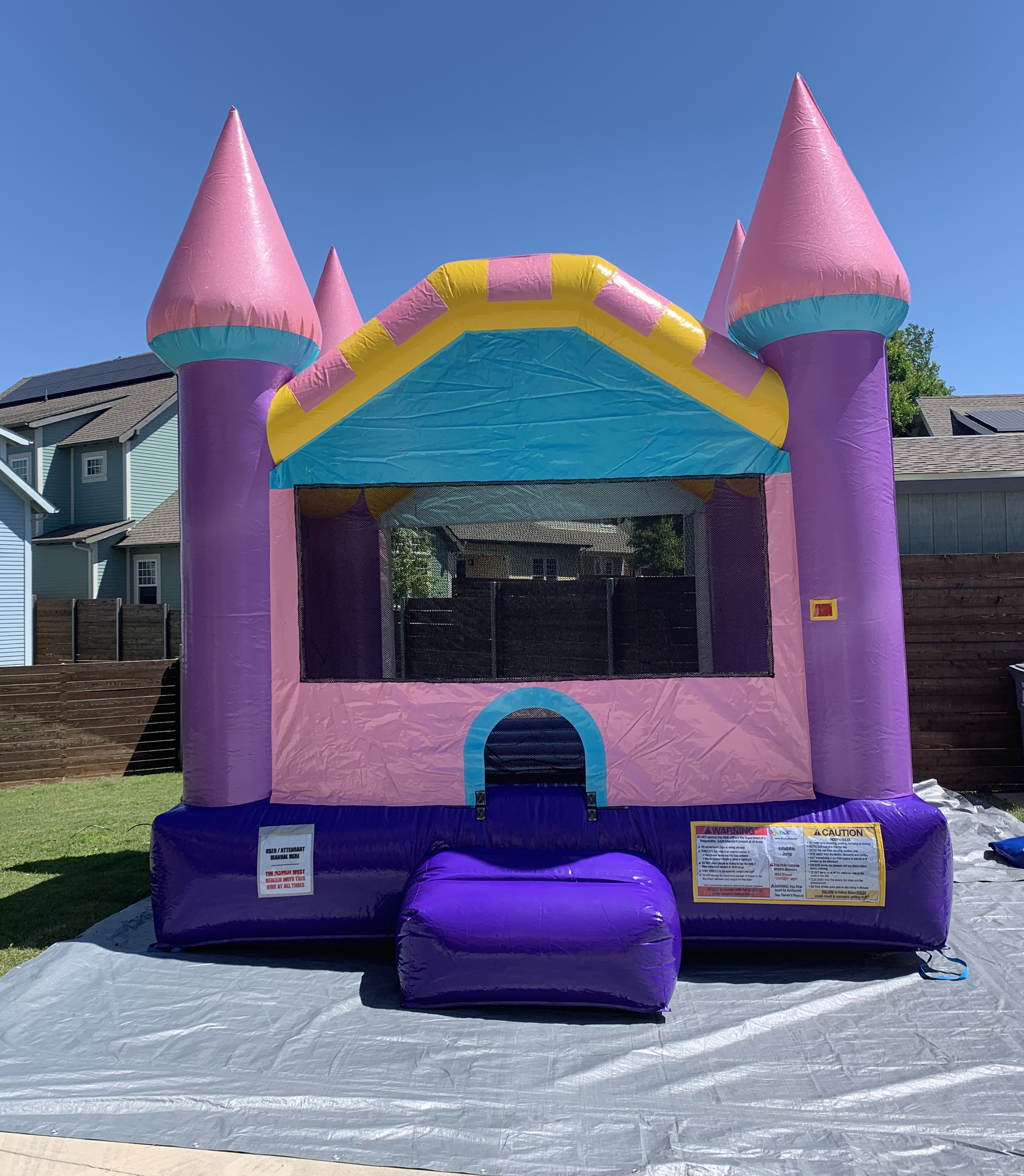 Toddler Bounce House Rentals in Coppell, TX
Our Toddler Inflatable Rentals in Coppell, Texas are great for your little ones. When planning a party or event, it's important to make sure that all age groups have fun activities. Our toddler bounce house or bounce house combos can be rented wet or dry and are perfect for cooling off in the hot Texas sun.

All our inflatable rentals are cleaned and sanitized before every rental. Also, our units are all produced by the top inflatable manufactured in the world, ensuring that they all meet or exceed industry safety standards and regulations. For us, fun is only second to safety. Bounce Universe Party Rentals has the best selection of large, colorful bounce house rentals for our customers with toddlers in the Coppell, Texas other surrounding areas in Texas. Browse the selections below and click the image or title for more information and to request a quote. We welcome all questions, please contact us for inquiries and orders
CLICK HERE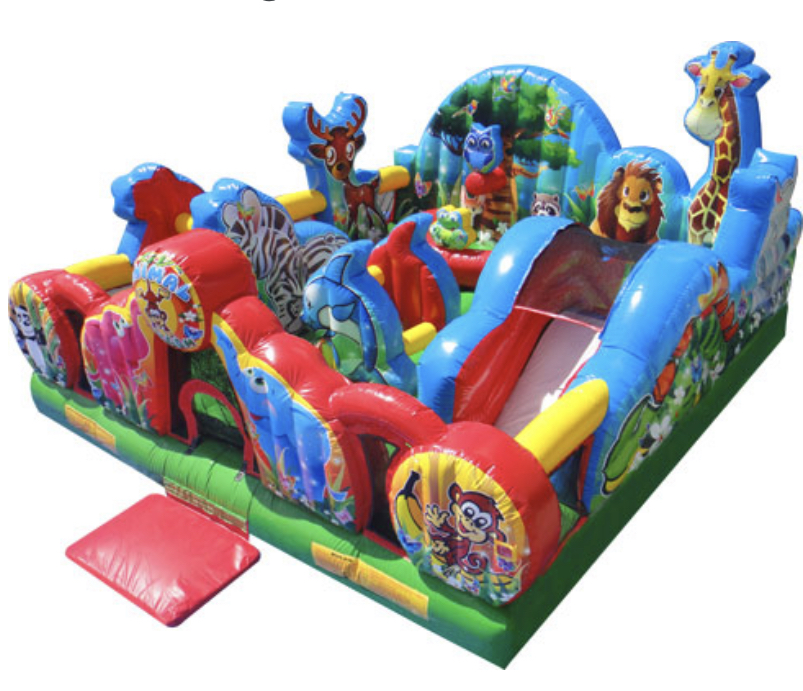 Indoor Bounce House Rental Coppell, Texas
Cold Outside? Smaller Space? Small Yard? Don't worry! Indoor or Outdoor Bounce Universe got you cover! This bouncer is appropriate for children 7 yr old or younger. Any or our bounce hour rentals can be use Indoor or outdoor depending on the ceiling height! Ideal for areas with height or space limitations. Panel can be added to suit the theme of your party! Please note area required for setup is 15'L x 16'W x 9'H. Bounce Universe delivers to Coppell, Texas and other surrounding areas!
Actual Size is 12'L x 13'W x 8'H
The Indoor Module Bounce House is an ideal fit for indoor FEC's, homes, or play centers that grapple with height limitations. The management 9'10" height makes these bounce houses truly portable entertainment modules. These Module bounce houses truly portable entertainment modules. Young guest will come flocking to spend time in the large jumping area, shoot some hoops, or challenge each other through the pop-up obstacles. An always-entertaining climb and slide rounds out the module fun, designed for hour of healthy physical play. Just click on the tab below and order your indoor bounce house.
CLICK HERE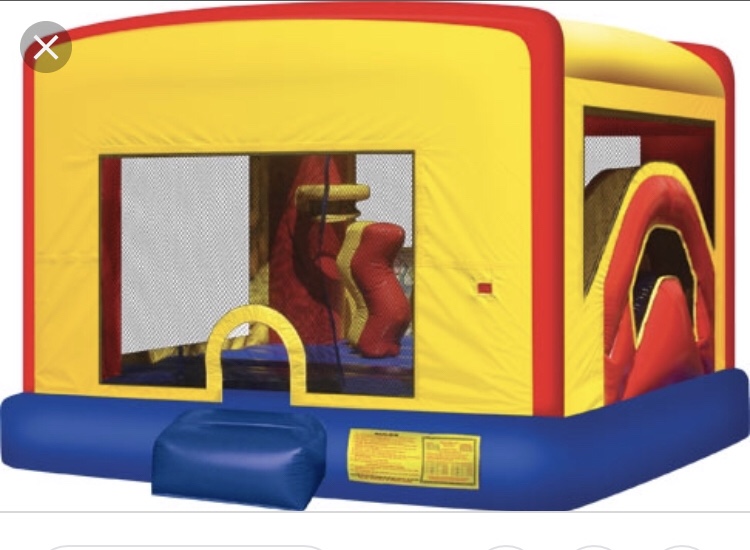 Combos Rentals in Coppell, Texas
If you are searching for a rental company that will provide inflatable slides and other party rentals for your next event in Coppell, Texas, look no further than Bounce Universe Party Rentals, LLC. As a one-stop shop for all of your event rental needs, we have everything you need from entertainment for the kids to event necessities like tent and chair rentals. We have years of industry experience, and have trained all of our full-time employees to safely and efficiently set up all the different event rentals we offer. And as members of the American Rental Association and boasting an A rating from the Better Business Bureau, were a company you can trust!

The bounce house with slides or best known for our Combos that we offer are some of the safest available in the industry. All our combos are purchased from the trusted manufacturers, are made of fire-retardant vinyl, have reinforced stitching, and are available with safety ramps. After every use we clean our combos with antibacterial disinfectant, and we always make sure our equipment passes annual inspections from the State of Texas. For added peace of mind, we'll provide one of our safety attendants who will supervise play, so you can relax with friends and family during your event while the kids have for fun.
CLICK HERE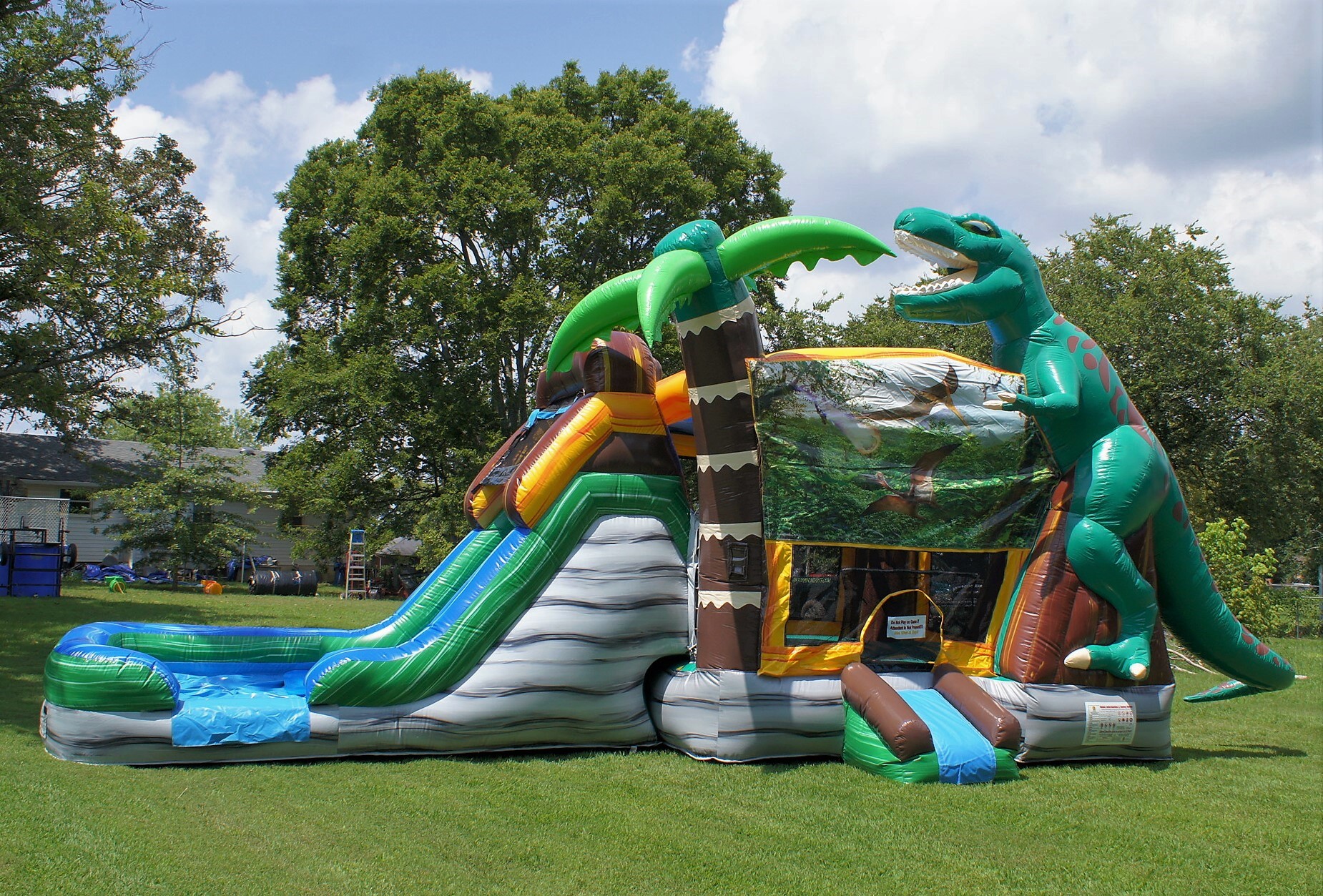 Inflatable Sport Game Rentals in Coppell, Texas
We are pleased to present you the largest carnival game rental selection for Coppell, Texas and proudly servings Coppell and surrounding area. We also travel for large carnival themed events. Our carnival game rental inventory is very diverse and vast. We've got carnival games for all ages, from toddlers and children to teenagers adults, our carnival games range in difficulty so everyone can be challenged if necessary. Be sure to ask our carnival game party planners for their expert opinions on what carnival game rentals might be best for your event! Our carnival game pricing starts at $25.00 for our Giant Checker games. There are many themes from classic carnival games to new edgy concepts. From there, we have our frame games and table carnival games which encompass many different themes.
CLICK HERE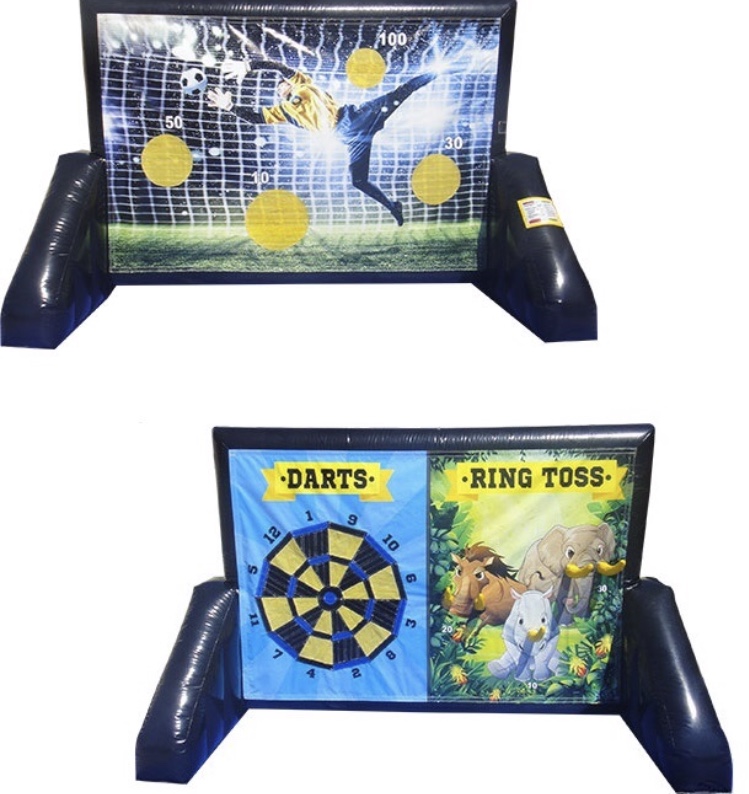 Carnival Game Rentals Coppell, Texas
If you're searching for a company to provide carnival games for your upcoming event in Coppell, Texas or any of the surrounding areas look no further than Bounce Universe. We have a simply unparalleled amount of games and other entertainment rentals for you to choose from, and will take care of the delivery, setup, and takedown of everything we provide for your event. To help you plan for your carnival, one of our certified event planners can take a look at your budget and put together a package that includes everything you need to ensure your event is a success and all of the guests have fun. Whether you're planning a school fundraiser, a community festival.

Our carnival games are in great shape. It's time to say goodbye to our competitor's old, danky wooden carnival games and hello to our innovative, colorful, and quality games. Simply put, our carnival game rentals are more fun and we're more likely to bring your event to life, whether it be a birthday party, corporate picnic, school fun fair, church carnival, or any other carnival themed event. If you really want to wow your guests! Looking for a game that we don't have? Chances are we have it, but that it hasn't been added to our inventory yet. We can customize games to parallel your company's brand or event theme. Our team of graphic designers and engineers can build any custom carnival games to meet your needs! Our unparalleled level of customer service, competitive pricing, and innovative products keeps our customers coming back again and again!
CLICK HERE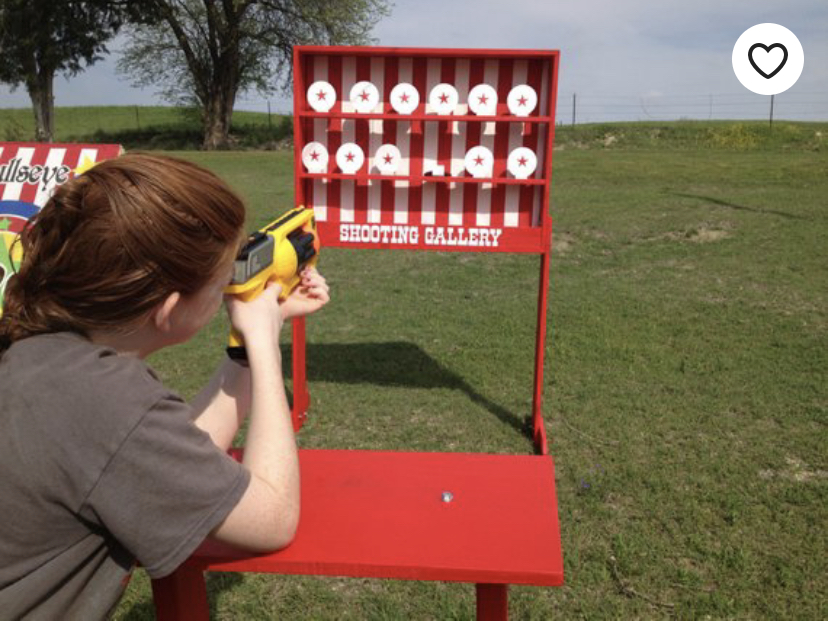 Water Slide Rentals Coppell, Texas
A water slide rental from Bounce Universe Party Rentals, LLC is the perfect way to bring your party's atmosphere to the next level. We would be happy to deliver to Coppell, Texas. Water slides are great for both kids and adults and provide a great way to cool off on a hot Texas summer day. We have a large variety of water slides, including giant water slides, bounce house/water slide combos, standalone water slides, and more! When you rent from Bounce Universe, here are some things you can expect, a large variety of party rentals including water slide rentals, bounce house, inflatable obstacle course rentals and more.

Our water slide rentals are just a small aspect of our business. We have many other party rentals along the same lines including a water Slip and Slide, Giant Dry Slides, Wet Combo with Slide rental, Water slide with slip and slide and more! Check out the rest of our site, there is to find out the bound to be something perfect for your party!
CLICK HERE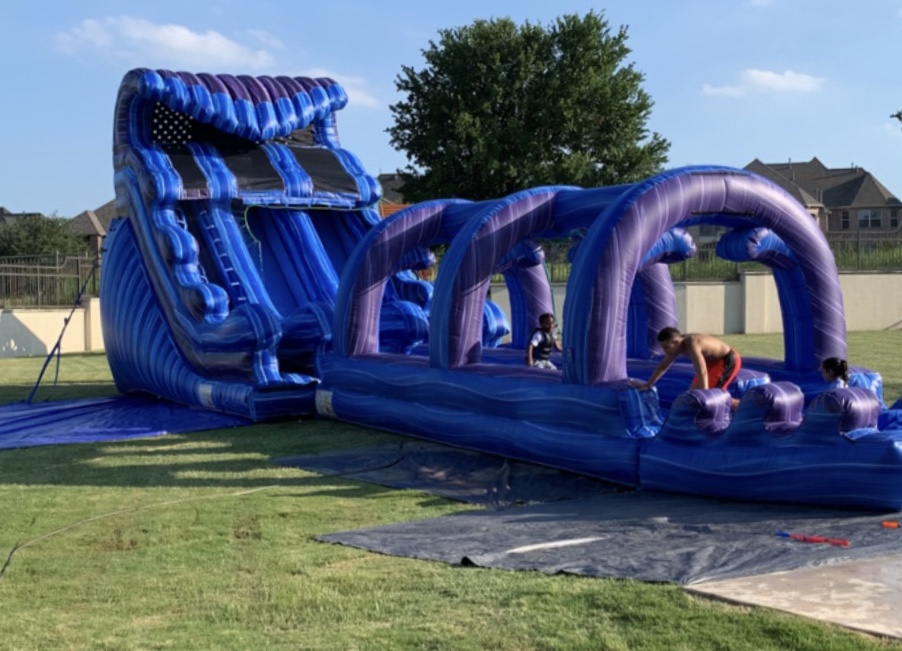 Obstacle Course Rentals in Coppell, TX
Bounce Universe Delivers to Coppell, Texas and surrounding areas, we can provide a vibrant and striking centerpiece for all types of events, both indoor and outdoor. It's also the perfect way to draw in guests of any age group to break the ice with some friendly competition that will keep them climbing, sliding, crawling running, and most importantly laughing. Give your guest a unique experience that they will bond over and long remember.

In addition, an obstacle course rental from Bounce Universe Party Rentals, is a premier party rental from the entertainment company can simplify your event planning. Our obstacle courses can serve as the party theme, decorations, and of course, the entertainment! Just a few of the products we have available for obstacle course rental for Coppell, Texas, see below!
CLICK HERE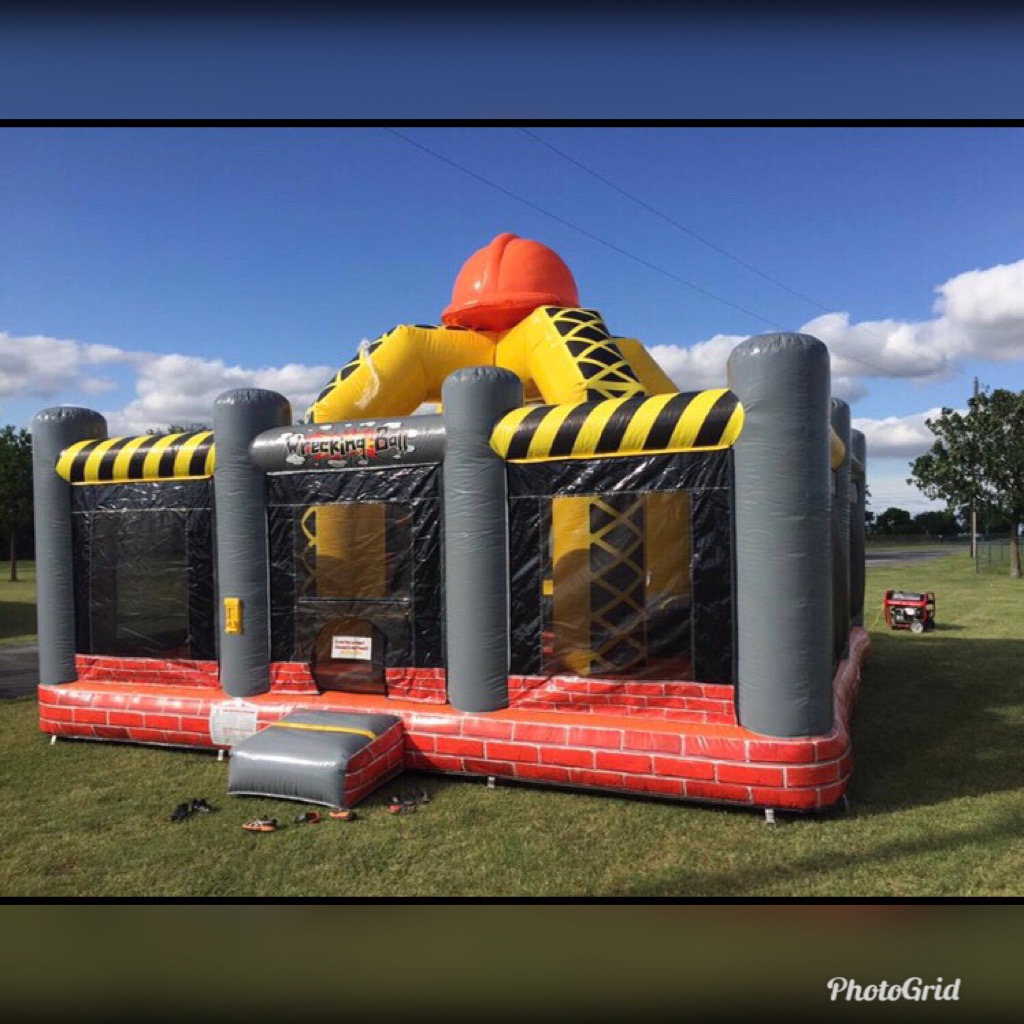 Concession Machine Rentals in Coppell, Texas
Treat your guests to our yummy concession machines! We service in Coppell, Texas and can provide commercial grade concession machine for example we count with Popcorn Machine, Snow Cone Machine and much more! We know how to have fun, and we know just what your Party needs! We provide high quality equipment to get the party started.

Bounce Universe Party Rentals has Concession Machines available for rent. It will enhanced the party fun in Coppell, Texas! We all know great parties always have great fund foods, and your party should't be any different . Our concession machines rentals are always properly cleaned and maintained. We want our customers to know that this is very important to us. Kids and adults alike will go crazy over the taste of our fresh made "Add to Cart" button featured on every product page.
CLICK HERE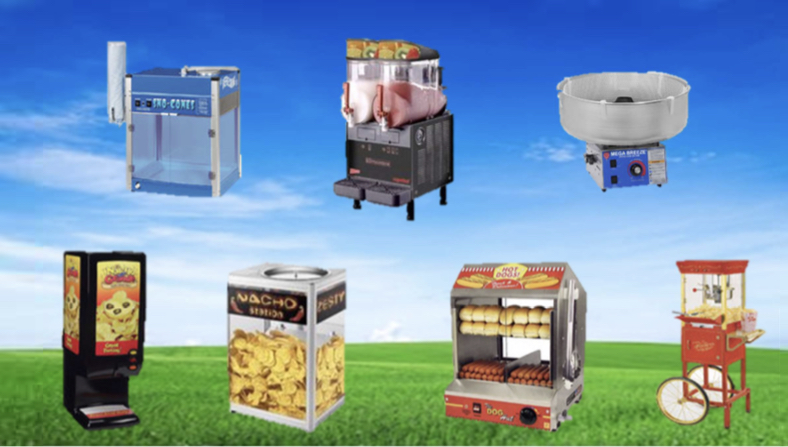 Table and Chair Rentals in Coppell, Texas
Tables and chairs are those cornerstone pieces you need at every event. You want your guests to be comfortable no matter the age or size. Bounce Universe Party Rentals services the Coppell, Texas area and carries tables and chairs for every occasion. We carry White Festival Folding Chairs, Banquet Chairs, Garden Chairs, and Toddler Chairs in different colors. The chairs are typically used for Graduations, weddings, Backyard Parties, Black Tie Events, Concerts, Dinning Tents, Church Services, and Dinner Parties.

Tables are an important part of any event. It is usually at a table where stories are told, memories are shared, and laughter abounds. Having quality tables that are guaranteed to stand level will keep your event professional. When it comes to tables, we carry them in all different shapes and sizes. We offer adjustable height Kids Tables, Round tables, Rectangle tables, and Square tables.
If you're having a Wedding, a graduation party, a Baptism in, or a Birthday, or Dinner party in, we have the tables and chairs that you need to make your event memorable.
CLICK HERE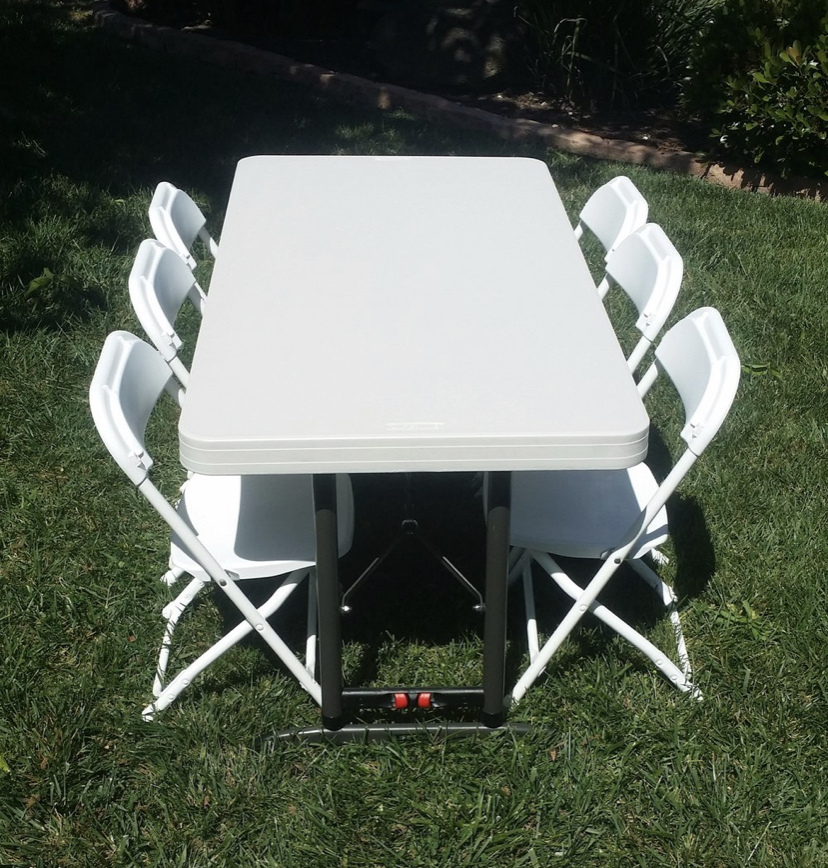 Tent and Canopy Rentals in Coppell, Texas
Shopping for tent rentals for your event can seem complex, especially if it's your first time, but it doesn't have to be with Bounce Universe Party Rentals. Our event planners have planned thousands of tented events so feel free to look to them for answers to your questions or for suggestions. Our installation crews setup tents 365 days and are backed by over a decade of experience.

Create a sophisticated atmosphere with our High quality frame tent rentals. Tent rentals are great for providing protection from the elements. Create a perfect shade, guard against rain or shine. All our frame tents feature heavy duty blackout white vinyl, no cross cables or center poles! Great for birthdays, weddings, or any occasion. Call about our tent sizes and options today!
Product Link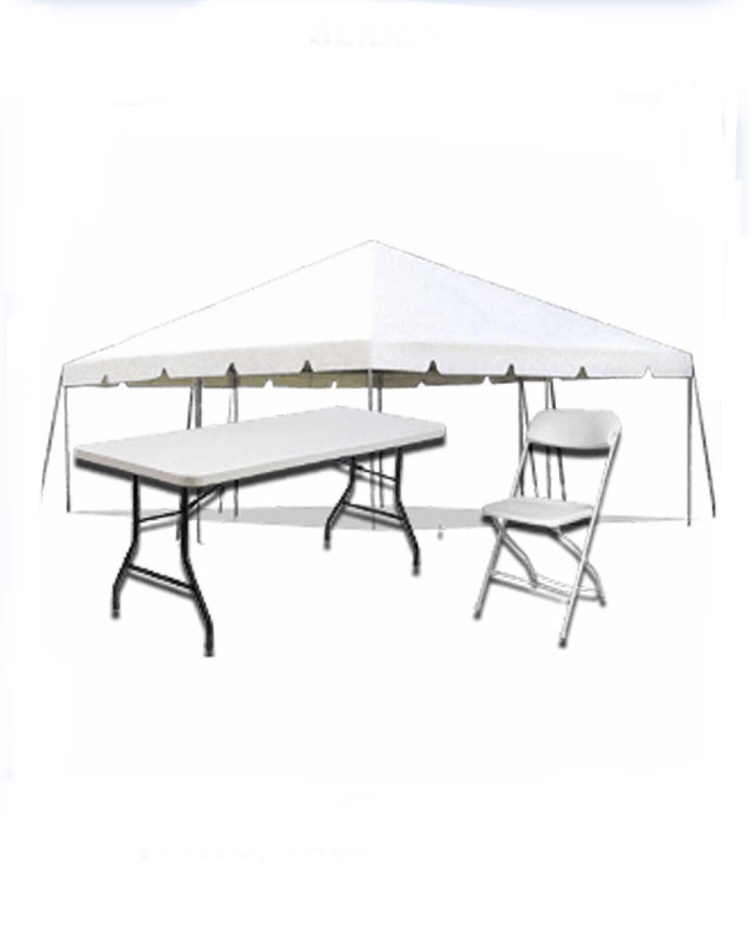 Margarita Machine Rentals in Coppell, Texas
Bounce Universe Party Rentals, LLC provides inflatable bounce houses rentals to Coppell, TX. No party is complete without some margaritas and what better way to make them than Bounce Universe Party Rentals. This dual bin machine allows for two different flavors such as the classic margarita flavored drink, strawberry daiquiri rum runner, etc. Or Enjoy a frozen drink on a warm summer day that is sure to refresh all your guests. This dual bin frozen drink machine allow your to create up to two different frozen drinks at one time.
CLICK HERE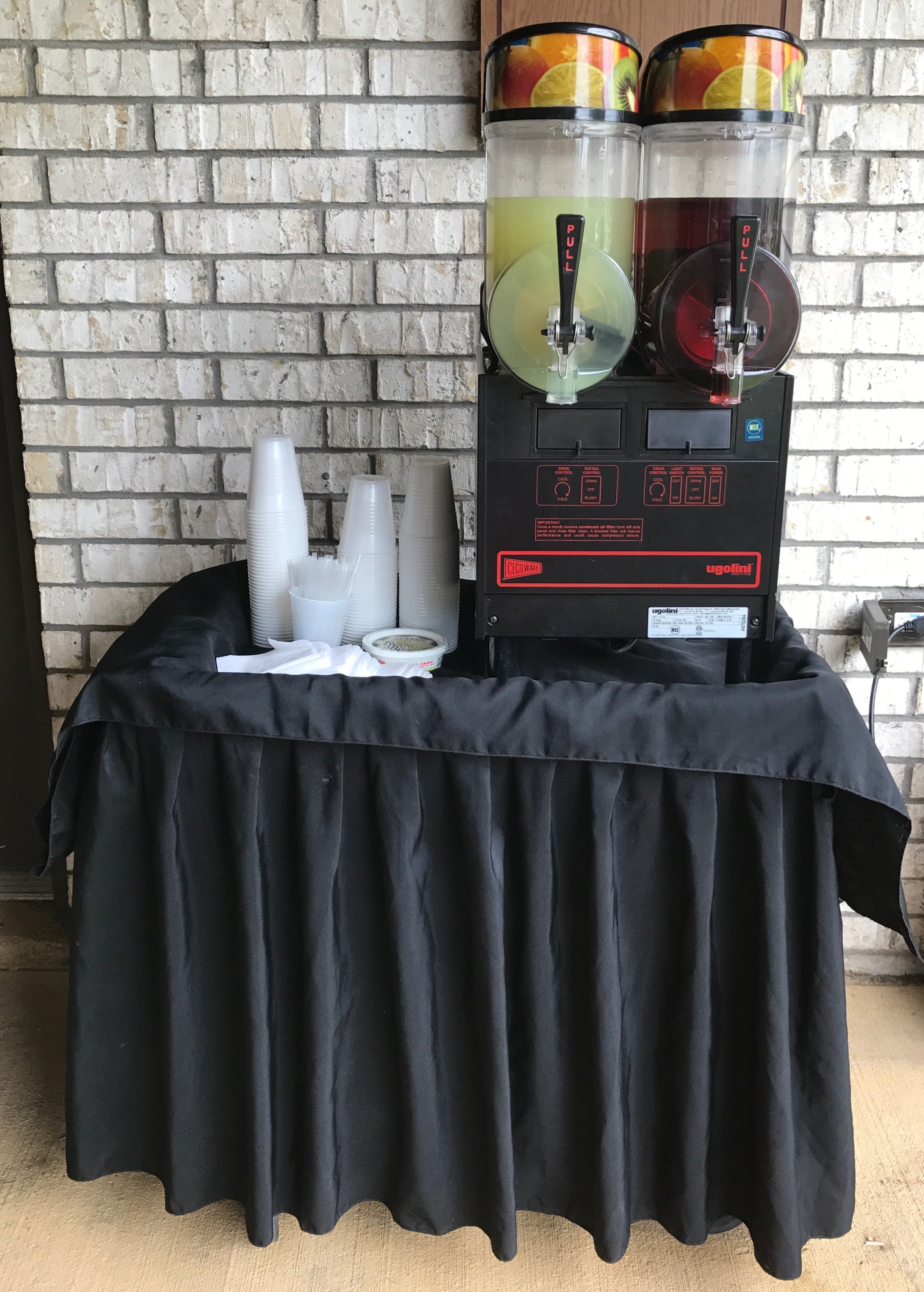 Big Splash & Dunk Tank Rentals in Coppell, Texas
Bounce Universe Party Rentals delivers to Coppell, Texas and surrounding areas, all our dunk tanks and big Splash Dunk tank are cleaned, sanitized and our equipment is almost new! If you want a dunk tank but don't want the little ones to fall into a tub of water, be sure to check out our Big Splash Dunk Tank rentals! This is what we call an 'alternative' dunk tank and it is suitable for all ages! This is the perfect dunk tank if you have little kids up to grandparents at your event!

The Funniest, Coolest way to have Fun & Cool off. Best way to get back at your Neighbors, your friends, your co-workers, your boss, or even your spouse! Rent one of our 500 Gallon Dunk Tank, or if you have limited space, we also have the dunk tank alternatives. Our Newest dunk tank products is the Beat the Bucket Game Rental
CLICK HERE